Food is at the centre of everything we know about friendships, relationships and building sustainable and healthy communities
From celebrity chefs to street vendors, pop-ups and picnics, this is an exciting sphere to explore.
Who is it for? Anyone working in food or hospitality or starting a new foodie business. It's also for those who want to create more adventurous and innovative food/hospitality at home.
Upcoming events
Ongoing events
Past events
Key connectors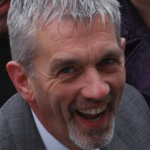 Seán Mullan has worked in church planting and church leadership for 25 years in Dublin and Cork. He was involved in setting up the Evangelical Alliance in Ireland and was its general director for five years. He has recently developed a new social enterprise project in Dublin City Centre. Third Space is a business that opens and runs neighbourhood cafes in parts of the city that were redeveloped without community space.